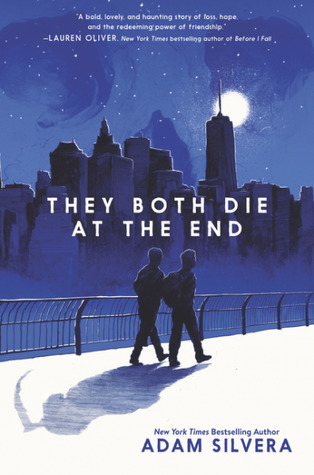 On September 5, a little after midnight, Death-Cast calls Mateo Torrez and Rufus Emeterio to give them some bad news: They're going to die today. Mateo and Rufus are total strangers, but, for different reasons, they're both looking to make a new friend on their End Day. The good news: There's an app for that. It's called the Last Friend, and through it, Rufus and Mateo are about to meet up for one last great adventure and to live a lifetime in a single day.
My Review: 5 Stars
So I read this book very quickly during college, which is surprising because I often barely read during my semesters. And maybe I should have been working on lab reports instead, but it's alright since it was Friday night and I needed a break and I've finished a lot of my lab report by now so it won't be a problem. But anyway, the reason I read this so quickly during a college semester was because I loved it and couldn't put it down. I fell in love with Mateo and Rufus and their stories. This book is heartbreaking but also hopeful at the same time. And yes, you know how the book will ultimately end though you don't know specifically how, but the journey of the story is the important part.
The entire premise of the book is interesting. I have no idea how Death-Cast actually knows who's going to die each day. But that didn't really detract at all from my enjoyment (probably the wrong word) of this book. I am curious, though, what would happen if Death-Cast knew who was supposed to die but didn't tell the people. Because maybe knowing that they're supposed to die somehow makes some kind of self-fulfilling prophecy psychological phenomenon occur. I don't really know though. It's just a theory I have.
I loved both Mateo and Rufus. Mateo is just such a sweet guy who would never hurt anyone. He's scared of going out into the world and doing things, because he isn't really about taking risks. He wants his End Day to be as long as it can be, and he is afraid of anything that could potentially shorten it, yet he also wants to get out into the world and do things and have new experiences on his last day. And Rufus I loved as well. He may not have seemed like someone I would love when his first scene was of him beating someone up. But I quickly learned that that wasn't really what Rufus is like normally and he definitely regretted. He had some pent-up anger from the deaths of his entire family. But Rufus was also a sweet guy. And when he and Mateo met through the Last Friend app and began to bond it was really sweet and nice. They both helped each other in ways. And the development of their relationship was quick, but also made sense since they were trying to live the rest of their lifetimes in one day.
Something I loved was how scattered throughout, in addition to the perspectives of Mateo and Rufus, were the perspectives of various minor characters. Some of them were more directly connected to our main characters, and others were definitely more tertiary, but I enjoyed them all. If you have read The Sun is Also a Star, it is similar to the other perspectives that were used in that book (and that book also took place over one day). My favorite was probably Lidia. She was Mateo's best friend and their friendship is so precious and adorable. Lidia is a single mom who is raising her daughter, Penny, and Mateo is super supportive of her and helps her out with her daughter when she needs it. This was such a great example of a strong, completely platonic friendship between a guy and a girl. And if Adam Silvera wanted to write another book about Lidia, I would so be there to read it (except knowing Adam's books it would probably be tragic and I don't want that for Lidia since she's already lost her boyfriend and best friend).
If you like good books that are also sad, read this book.
Katie