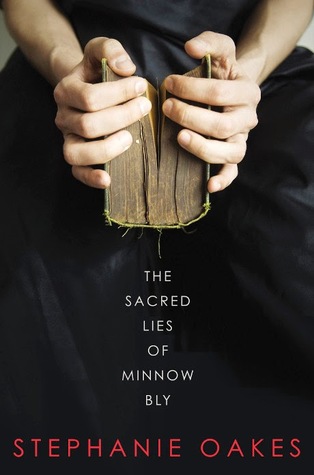 With a harrowing poetic voice, this contemporary page-turner is perfect for fans of Laurie Halse Anderson's Speak, Julie Berry's All The Truth That's in Me, and the works of Ellen Hopkins.

The Kevinian cult has taken everything from seventeen-year-old Minnow: twelve years of her life, her family, her ability to trust.

And when she rebelled, they took away her hands, too.

Now their Prophet has been murdered and their camp set aflame, and it's clear that Minnow knows something—but she's not talking. As she languishes in juvenile detention, she struggles to un-learn everything she has been taught to believe, adjusting to a life behind bars and recounting the events that led up to her incarceration. But when an FBI detective approaches her about making a deal, Minnow sees she can have the freedom she always dreamed of—if she's willing to part with the terrible secrets of her past.

The Sacred Lies of Minnow Bly is a hard-hitting and hopeful story about the dangers of blind faith—and the power of having faith in oneself.
My Review:
If you cannot handle books that are dark, and quite gory at times, then this really is not the book for you. But if you like dark books, then I highly recommend this one. It was really a fascinating look into a cult and into living life after a cult, as well as the gray areas between someone being a criminal and a victim.
The Kevinian cult was something that was quite interesting. It was very oppressive to women, who were all basically controlled by their husbands and fathers, as well as being controlled by what the Prophet wanted them to do. Men could marry many wives, and families were often large with many kids. When I read the parts about their religion, so many parts of it did not seem real at all, and I couldn't understand how these people could be brainwashed into believing these things. They all really believed that God was a guy named Charlie who kept on being reincarnated. Yet they didn't have an explanation for who created the world before Charlie was first born, since his first birth supposedly wasn't until the 1700s, according to what they believed. I did not like the Prophet at all, and I also did not like Minnow's father. Minnow's own father cut off her hands because the Prophet told him to. And I'm kind of curious about what was going on in the mind of the Prophet. I think he was a vile person, but I wonder if he knew he was a liar, or if he had truly deluded himself into believing his own lies.
Minnow is a character with a morally gray background. She is in a juvenile detention center for attacking a boy. She did this right after she left the cult, and she was not at all in a good mental state. It is really interesting to wrestle with the idea of how much she deserved punishment for what she did. Attacking someone is not a good thing to do, and I am not at all condoning that, but Minnow had been in a cult since she was five years old. She was not ready for life in the real world, and she was a victim of so much awfulness.
One character that I loved so much was Minnow's cellmate at juvie, Angel. I would never have expected that I could love a character who was a murderer, but I loved her so much. Also, while this creates another moral argument about whether there is such a thing as justifiable murder, the person that Angel murdered was someone who had abused and victimized her for years. Angel was exactly the friend that Minnow needed and I loved watching this friendship develop. Also, Angel does an incredibly sweet thing for Minnow, and says something very sweet too, and just, this friendship gives me so many feels. Also, so much of these feels also come from how heartbreaking Angel's sentence is. I will just say that it is so long, and it is messed up that a girl basically loses so many years from her life to prison after being abused and a victim. Angel points out the injustice in this, and she is so right about it. I think Angel deserves so much more for her life, and she really is a good person, despite whatever she's done in the past.
If you like YA dark contemporary, read this book.
Katie