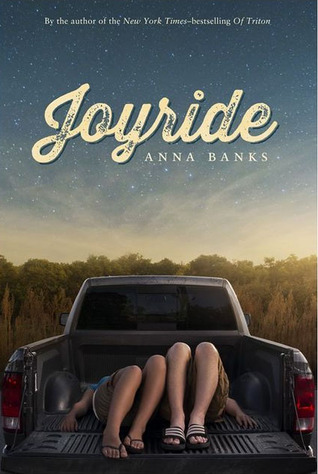 A popular guy and a shy girl with a secret become unlikely accomplices for midnight pranking, and are soon in over their heads—with the law and with each other—in this sparkling standalone from NYT-bestselling author Anna Banks.

It's been years since Carly Vega's parents were deported. She lives with her brother, studies hard, and works at a convenience store to contribute to getting her parents back from Mexico.

Arden Moss used to be the star quarterback at school. He dated popular blondes and had fun with his older sister, Amber. But now Amber's dead, and Arden blames his father, the town sheriff who wouldn't acknowledge Amber's mental illness. Arden refuses to fulfill whatever his conservative father expects.

All Carly wants is to stay under the radar and do what her family expects. All Arden wants is to NOT do what his family expects. When their paths cross, they each realize they've been living according to others. Carly and Arden's journey toward their true hearts—and one another—is funny, romantic, and sometimes harsh.
My Review:
This book was an interesting one with a fabulous hate to love romance. It explored some issues in it as well, mainly illegal immigration.
Carly Vega certainly does not have an easy life in this book, and I really cannot imagine having that life. Her parents were deported 3 years before, and she works a late night shift at a convenience store to make money to help pay to smuggle them back in. She lives with her older brother, who is working a lot as well to make money for smuggling them. Carly wants to get an education so that she can make more of her life, but her parents and her brother, Julio, think that working is the most important thing. It's a bit of a conflict of interest, since she has to keep working to please them, but she also has to get all her homework done in hopes of being able to get a scholarship to afford going to college.
Arden Moss is the son of the sheriff, and he likes to prank people. He needs a new "partner in crime," and he has his sights set on Carly. Unfortunately for Arden, thanks to an incident at the convenience store, she wants nothing to do with him. At first, I wasn't sure how I felt about Arden, because he did something near the beginning of the book that I did not like or approve of, but he really grew on me by the end, and I thought he was so sweet.
As you can probably guess, the ship in this book is Carly and Arden, and I am totally on board this ship. Hate to love is a romance trope that I love, since it typically causes the romance to develop slowly, as the characters really develop their feelings for each other. I loved how much Arden cared for Carly, and how he did nice things for her because he wanted to, such as getting her a new job that had better pay. I mean, he did have slightly ulterior motives of wanting her to go on adventures with him, but he also was just being a nice guy. And he does something near the end that really risks himself for her, and I have so much love for him, and for his relationship with Carly.
If you like YA contemporary, read this book.
Katie