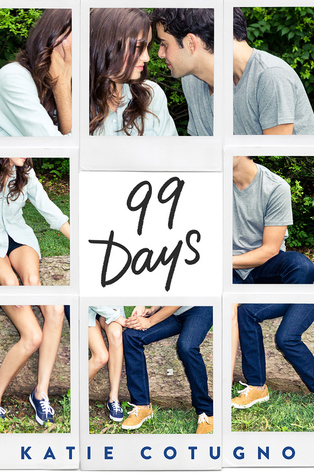 Day 1: Julia Donnelly eggs my house my first night back in Star Lake, and that's how I know everyone still remembers everything—how I destroyed my relationship with Patrick the night everything happened with his brother, Gabe. How I wrecked their whole family. Now I'm serving out my summer like a jail sentence: Just ninety-nine days till I can leave for college, and be done.

Day 4: A nasty note on my windshield makes it clear Julia isn't finished. I'm expecting a fight when someone taps me on the shoulder, but it's just Gabe, home from college and actually happy to see me. "For what it's worth, Molly Barlow," he says, "I'm really glad you're back."

Day 12: Gabe got me to come to this party, and I'm actually having fun. I think he's about to kiss me—and that's when I see Patrick. My Patrick, who's supposed to be clear across the country. My Patrick, who's never going to forgive me.
My Review:
Something that both of Katie Cotugno's books have in common is that she isn't afraid to give her characters real flaws, and have them be not necessarily "likeable" characters. I think it makes the characters seem much more like real people, since they make mistakes, and I still end up usually liking these characters.
As a reader, it is easy to see how Molly is torn between Gabe and Patrick, since I wasn't really one hundred percent sure who I preferred either, though I did have at least a slight preference. There were different things that made me like Gabe versus Patrick. I personally thought that I read more chemistry between Gabe and Molly, while Patrick and Molly had more of a cute shared history that I didn't want them to completely leave behind. Of course, the way Molly was torn between the two brothers was something that was going to hurt both her and the brothers' relationships with each other.
Julia was the sister of the two brothers, and she had at one point been Molly's best friend. She was completely awful to Molly, and she shouldn't have really been that involved in something that was between Molly and her brothers. Even when Molly was dating one of the brothers and came over to the house invited by him, Julia tried to get her to leave and thought that she shouldn't be there. Julia was a bully to Molly, and while cheating isn't good, she didn't deserve that.
Something that I liked in this book was the development of the friendships. One of these friendships is with Molly's former best friend Imogen. Imogen is still hurt because Molly left without telling her where she was going or telling her anything. It was clearly hard at first for Imogen to be friends with Molly again, but she really does make an effort which I appreciated. Imogen has a new best friend, Tess, who Molly befriends in this book as well. It's slightly awkward with Molly and Tess since Tess is Patrick's new girlfriend. Tess was really sweet, though, and I really liked her.
If you like YA contemporary, read this book.