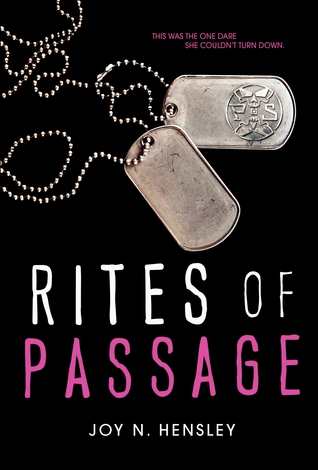 Sam McKenna's never turned down a dare. And she's not going to start with the last one her brother gave her before he died.
So Sam joins the first-ever class of girls at the prestigious Denmark Military Academy. She's expecting push-ups and long runs, rope climbing and mud-crawling. As a military brat, she can handle an obstacle course just as well as the boys. She's even expecting the hostility she gets from some of the cadets who don't think girls belong there. What she's not expecting is her fiery attraction to her drill sergeant. But dating is strictly forbidden and Sam won't risk her future, or the dare, on something so petty...no matter how much she wants him.
As Sam struggles to prove herself, she discovers that some of the boys don't just want her gone—they will stop at nothing to drive her out. When their petty threats turn to brutal hazing, bleeding into every corner of her life, she realizes they are not acting alone. A decades-old secret society is alive and active… and determined to force her out.
At any cost.
Now time's running short. Sam must decide who she can trust...and choosing the wrong person could have deadly consequences.
My Review:
A common theme that I have seen about this book in reviews is that it makes people angry. And it certainly did not disappoint in that aspect. So many of the male characters made me angry at the way they treated the female recruits, and especially Sam. Despite how angry it made me, I absolutely loved this book. Plus, I feel that only an amazing book can make someone feel all the emotions the way that this book does. This will probably be one of my favorite books of all time. It is so powerful and so well-written.
Sam McKenna is one of the strongest characters that I have ever read. I've seen her compared to Katniss, and I'd say that that description fits. She could certainly hold her own against Katniss in a battle. The things that Sam goes through during her year at the DMA are horrifying and awful, but she never really considers dropping out or quitting. I admire her true determination. I definitely would never go to military school, just for the military training itself, but she endures so much beyond just the training. I can't even being to truly imagine it. The drills that all of the company goes through are difficult enough, with all the pushups, and the miles that they have to run each day, but Sam is subjected to so much more than that.
Many of the boys in this book made me extremely angry. One of these was Corporal Matthews, who was in charge of the company that Sam was in, Alpha Company, and ran many of their drills. He was a misogynistic jerk. He was the main person who treated Sam horribly because she was a girl. Sure, he was a harsh commander to all the boys in the company too, but he treated Sam differently than how he treated them. He acted like she was inferior and holding up the company, when she doing better on the exercises than some of the boys. He was both physically and verbally abusive to her. Some of the other boys weren't much better. Luckily, her own company is mainly supportive, especially Kelly, though he does go through a part when he isn't as supportive, and starts becoming distant from her.
The relationship with Drill is very well written in the book, since it is a relationship that is forbidden for Sam. It is clear from the beginning that she finds keeping her position and succeeding at the DMA more important than dating the guy that she likes. Drill is in a higher position than her, as her drill sergeant, and it is obvious from the beginning that he isn't going to treat her differently than any of the guys. He will expect a lot from her, just like he expects a lot from the boys, but he isn't going to try to get her to quit. I loved him, and how sweet he was to Sam, especially when their relationship really started to begin. I thought they made a really good couple.
If you like YA contemporary, read this book.
Katie