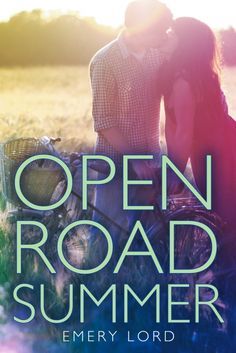 After breaking up with her bad-news boyfriend, Reagan O'Neill is ready to leave her rebellious ways behind. . . and her best friend, country superstar Lilah Montgomery, is nursing a broken heart of her own. Fortunately, Lilah's 24-city tour is about to kick off, offering a perfect opportunity for a girls-only summer of break-up ballads and healing hearts. But when Matt Finch joins the tour as its opening act, his boy-next-door charm proves difficult for Reagan to resist, despite her vow to live a drama-free existence. This summer, Reagan and Lilah will navigate the ups and downs of fame and friendship as they come to see that giving your heart to the right person is always a risk worth taking. A fresh new voice in contemporary romance, Emery Lord's gorgeous writing hits all the right notes.
My Review:
This was a cute and fun read that also had plenty of character development. Also, I love when books have a close female friendship, and this book definitely had that. The romance was adorable as well, so I loved this book.
POSSIBLE SPOILERS AHEAD
One of the best things in this book was the friendship between Reagan and Dee. Everyone else knows Dee as Lilah, the country star, but to Reagan, she is Dee, the girl who has been her best friend for years. Dee and Reagan are both there for each other when they need each other. When Reagan has gotten drunk at parties in the past, Dee has been the one to make sure she got home safely. When Dee experiences the bad sides of fame, such as bad things being written about her in the tabloids, Reagan is there to comfort her and tell her it will be all right, and to be mad at the tabloid writers for writing the article. I think one good part about the friendship was that it formed before Dee became famous. They were already best friends, and even once Dee became a music star, they didn't stop being best friends. The friendship read as really authentic.
The romance with Matt was adorable, with some hurdles along the way. He is originally added to the tour so that fans will think he is in a relationship with Dee, but he and Dee don't like each other like that. They are good friends, though, who know each other through the music business. When he meets Reagan, at first they seem to clash with each other. Reagan seems annoyed that her summer road trip with Dee is interrupted by the addition of this boy. Of course, that's before they start to fall for each other. Their relationship is full of adorable banter, and lots of fun. There are some issues in their relationship, mainly stemming from her jealousy when he talks to other girls.
This book shows what can happen when someone is famous. The tabloids are always displaying all kinds of articles about famous people. Even famous people who don't do anything wrong end up in the tabloids, and Dee is a good example of this. She isn't a star who is into drinking and drugs. She is innocent, and the tabloids write lies about her being pregnant. Also, they like to speculate about her break-up, and they really wanted to figure out who it is that she broke up with.
If you like YA contemporary, read this book.
Katie