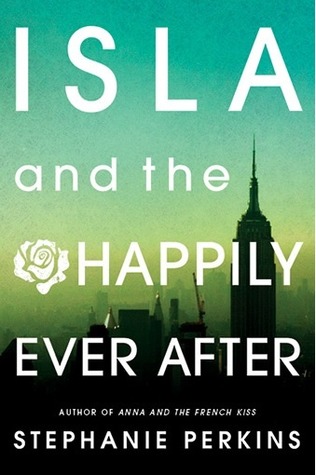 Love ignites in the City That Never Sleeps, but can it last?
From the glittering streets of Manhattan to the moonlit rooftops of Paris, falling in love is easy for hopeless dreamer Isla and introspective artist Josh. But as they begin their senior year in France, Isla and Josh are quickly forced to confront the heartbreaking reality that happily-ever-afters aren't always forever.
Their romantic journey is skillfully intertwined with those of beloved couples Anna and Étienne and Lola and Cricket, whose paths are destined to collide in a sweeping finale certain to please fans old and new.
My Review:
Isla and the Happily Ever After was a very cute read with a great romance as well as an awesome setting. I loved the references to different places in Paris, and watching the main characters fall in love in the City of Love.
The relationship between Isla and Josh was certainly not one that was perfect. She had been crushing on him for years and had some awkward encounters with him, but she never expected that he would end up liking her too. I think her shock at his feelings for her ended up leading to some of the problems that they had later on, because she has a rather high level of insecurity. She didn't feel worthy of his love, and she worried too much about his relationship with his ex. She compared herself to his ex in her mind, and she didn't think that her relationship with Josh could be as perfect as Rashmi's relationship with Josh.
Josh is a sweet guy. He has his flaws, more in what he does in school, than who he is as a person. His personality is great. He is so caring and loving. He does have the bad habit of skipping class too much, but he has found his passion and knows what he wants to do with his life. He is clearly talented at art and drawing, which is what he does. He knows that he wants to go to art school and he has a clear direction for what he wants to do with his life.
I also liked how the friendship between Kurt and Isla was developed. He is a guy who has been best friends with her for her whole life, and everything between them is completely platonic. Neither one of them is secretly in love with the other. The friendship underwent some difficulties as Isla began her relationship with Josh, since she often chose Josh over Kurt when it came to who she spent time with. Which is understandable since Josh is her boyfriend, but she needs to spend time with friends, too, which she comes to realize throughout the book. It is was also good to see how accepting Josh was to Kurt, since some of Isla's past friends had been uncomfortable around him. He has autism, and one of her friends made her choose between Kurt and her, so she chose Kurt, since he wouldn't make her choose.
If you like YA contemporary, read this book.