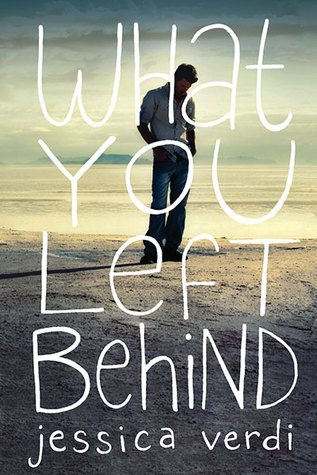 It's all Ryden's fault. If he hadn't gotten Meg pregnant, she would have never stopped her chemo treatments and would still be alive. Instead, he's failing fatherhood one dirty diaper at a time. And it's not like he's had time to grieve while struggling to care for their infant daughter, start his senior year, and earn the soccer scholarship he needs to go to college.

The one person who makes Ryden feel like his old self is Joni. She's fun and energetic—and doesn't know he has a baby. But the more time they spend together, the harder it becomes to keep his two worlds separate. Finding one of Meg's journals only stirs up old emotions, and Ryden's convinced Meg left other notebooks for him to find, some message to help his new life make sense. But how is he going to have a future if he can't let go of the past?
My Review: 4 Stars
I really liked this story, and the characters in it. The main character was Ryden, a male character, which is fairly unique for YA books since more are typically female characters. Not only that, but the topic itself was one that I've never read before - the story of a teen dad. I've read a few teen pregnancy books before, and they've all focused on the mom. The only other one that I've read with a would-be teen dad was a book when the girl got an abortion, so he wasn't actually dealing with being a father. So I loved seeing this plotline explored.
Ryden read as a very real character to me. He certainly wasn't perfect, but he was trying to be the best father that he could be for his daughter. Sure, he made plenty of mistakes along the way, and there were times that he was pretty selfish, focusing on his life and his future while handing his daughter off to other caretakers. And I didn't really get how he thought that meeting his father who he had never known would be the missing piece that would make him into a good father. After all, his father had left before he was born, so it wasn't like he was ever a real father to him. So yeah, I didn't get his fixation on finding out who his father was. Luckily, that wasn't that much of the story.
Someone in this story who was great as a parent was Ryden's mom. She was so supportive of him the entire time, and she was also a great grandmother to his daughter. She had raised Ryden on her own as a single mom, and she really was amazing at it. I loved her support for him, while also pushing him when it was necessary in certain areas.
I loved reading about Ryden's relationships with people, both in the past and the present. Meg had already died at the start of the book, but we got to find out more about her through the snippets of the journals that she wrote that were included in the book. I'm not completely sure how I felt about her in the end, but there were parts when I did like her. Ryden also had a developing relationship with a girl who worked with him at a grocery store named Joni. This was a friendship to romance progression that I really liked. It was also interesting to see how it was really freeing for him to be with her at first, since she didn't know about his past and about his daughter, but eventually this became difficult, since he didn't want to keep secrets from somebody so important to him.
If you like unique YA contemporary storylines, read this book.
Katie