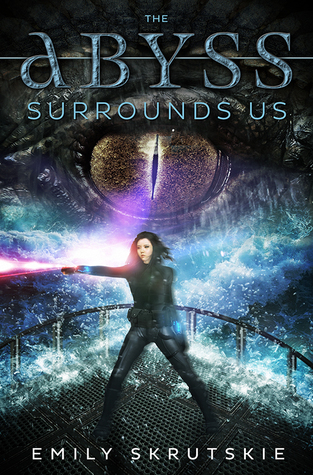 For Cassandra Leung, bossing around sea monsters is just the family business. She's been a Reckoner trainer-in-training ever since she could walk, raising the genetically-engineered beasts to defend ships as they cross the pirate-infested NeoPacific. But when the pirate queen Santa Elena swoops in on Cas's first solo mission and snatches her from the bloodstained decks, Cas's dream of being a full-time trainer seems dead in the water.

There's no time to mourn. Waiting for her on the pirate ship is an unhatched Reckoner pup. Santa Elena wants to take back the seas with a monster of her own, and she needs a proper trainer to do it. She orders Cas to raise the pup, make sure he imprints on her ship, and, when the time comes, teach him to fight for the pirates. If Cas fails, her blood will be the next to paint the sea.

But Cas has fought pirates her entire life. And she's not about to stop.
My Review: 5 Stars
This book is technically outside of my typical genre for reading, yet I still loved it so much. My favorite part of it was definitely the relationships between the various characters in the book.
My favorite relationship in this book is the one between Cas and Swift. It is a slow burn hate to love, and hate to love is one of my favorite relationship tropes. The book deals with how they are in positions of different levels of power, which makes a relationship for them difficult. Swift is essentially helping holding Cas captive. And Cas's choices are tied to whether or not Swift will be allowed to live. And somewhere along the way, both of them fell for each other. It was a great progression to see when Swift kept Cas safe because she just cared about her own life and the transition to her keeping Cas safe because Cas's life matters to her. I shipped the two of them so much, though it wasn't always an easy and pain-free ship.
The world in this book is really interesting. It's a very aquatic world, with pirates and other ships that they attack. The whole thing with the sea monsters is also interesting, since they are trained to guard ships and fight off the pirates. There is a lot involved with the training of them sometimes. It is definitely not a safe job. Cas has been trained to do this job throughout her life, though she never intended to do it on a pirate's ship. She questions the morality of many things throughout the story, learning that maybe she's almost as bad as the pirate's and hypocritical in thinking that what they do is wrong and what she does is right.
If you like YA sci-fi or just books with good character relationships, read this book.
Katie