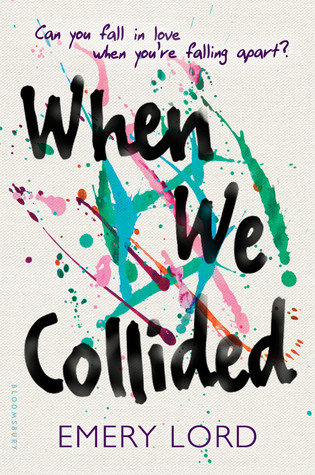 We are seventeen and shattered and still dancing. We have messy, throbbing hearts, and we are stronger than anyone could ever know…

Jonah never thought a girl like Vivi would come along.

Vivi didn't know Jonah would light up her world.

Neither of them expected a summer like this…a summer that would rewrite their futures.

In an unflinching story about new love, old wounds, and forces beyond our control, two teens find that when you collide with the right person at just the right time, it will change you forever.
My Review: 5 Stars
I think this may be my least favorite of Emery Lord's books, but that isn't a bad thing, because it just means that I loved the others so much and didn't love this quite as much as them. I still very much liked this book and it was a very quick read once I got into it.
Something that I thought this book did really well was dealing with mental illness. It becomes pretty clear during the story that there is something wrong with Vivi, even if the diagnosis isn't given for a while. She has mood swings of being either up or down and she is quite manic sometimes. While I do not have bipolar disorder or know people with it personally, I thought this seemed to be a good and honest portrayal of how it affects someone's life. This book is also pro-medication, though Vivi personally is not for a while, which is good to see in a book since that can be helpful to people dealing with mental illness.
I loved Jonah so much. He was just such a genuinely sweet boy who was there for Vivi. It wasn't always easy for him to see her going through some of what she went through in the book, but he was there for her and supportive. He also was struggling quite a bit himself from losing his dad and from his family's financial troubles. He basically had to be the person in charge since his mom barely got out of bed after losing her husband. He was thrown into a position of having to be one of the guardians for his younger siblings and he split these responsibilities with his older brother. It was clear that this was tough on him, but he did the best job that he could. I really loved reading about the siblings in this book.
The romance that developed between Jonah and Vivi wasn't perfect, but I think it was what both of them needed at the time. I can't say too much more about this because of spoilery reasons, but yeah. I liked it and thought it was sweet.
If you like YA contemporary, read this book.
Katie