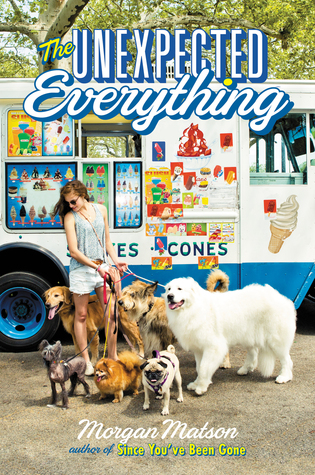 Andie had it all planned out.

When you are a politician's daughter who's pretty much raised yourself, you learn everything can be planned or spun, or both. Especially your future.

Important internship? Check.

Amazing friends? Check.

Guys? Check (as long as we're talking no more than three weeks).

But that was before the scandal. Before having to be in the same house with her dad. Before walking an insane number of dogs. That was before Clark and those few months that might change her whole life.

Because here's the thing—if everything's planned out, you can never find the unexpected.

And where's the fun in that?
My Review: 5 Stars
When I started this book I was not expecting to love it as much as I did, and I definitely was not expecting to fly through this book that was over 500 pages in only a little more than a day.
I really loved this book and the character relationships in it and I probably could have read even more of it if it had been even longer than how long it already was.
I loved how important the friendship was in the book, and how the group dynamics worked. They are so funny and fun together, and it's clear that they all know each other really well. They don't have perfect relationships, but when they mess up things they apologize and work to fix it. The friend group is Palmer, Bri, and Toby. Bri and Toby are best friends, and so are Palmer and Andie, and the four of them are a really strong friend group, who have an amusing ongoing group message. Palmer is in a relationship with Tom and has been for three years, so he's part of the group too. He quickly becomes close friends and has a "bromance" with Andie's new boyfriend, Clark.
Andie's relationship with Clark is absolutely adorable. I loved seeing them get together and start a relationship and navigate that. I loved how he was super awkward with her at first and had trouble asking her out. And then they had a bad first date, which is more unusual for book relationships. But of course, things ended up working out better after that date. Andie was used to relationships that lasted three weeks maximum, so really developing feelings for a guy was new for her. It was so cute. Clark was interesting and sweet. He was a writer of a famous fantasy series who was trying to get past writer's block to finish the 3rd book.
Another relationship in this book was between Andie and her dad. She and him had been distant since he was a Congressman in DC, but he was on a break from that due to a scandal in his office, so she had to get used to having him around. Five years before, Andie's mother had died which had changed the family dynamics. Andie didn't feel like her dad was really a dad to her since he didn't seem to care or remember a lot of things going on in her life. I liked seeing how they grew closer over the summer together and began to really mend their relationship.
If you like YA contemporary, read this book.
Katie