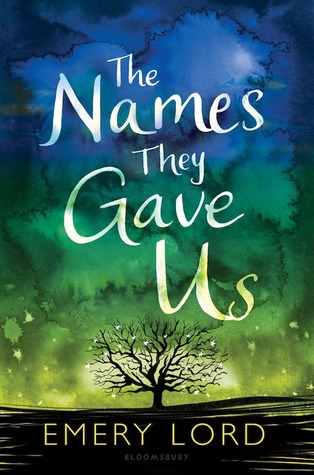 When it all falls apart, who can you believe in?

Everything is going right for Lucy Hansson, until her mom's cancer reappears. Just like that, Lucy breaks with all the constants in her life: her do-good boyfriend, her steady faith, even her longtime summer church camp job.

Instead, Lucy lands at a camp for kids who have been through tough times. As a counselor, Lucy is in over her head and longs to be with her parents across the lake. But that's before she gets to know her coworkers, who are as loving and unafraid as she so desperately wants to be.

It's not just new friends that Lucy discovers at camp—more than one old secret is revealed along the way. In fact, maybe there's much more to her family and her faith than Lucy ever realized.
My Review: 5 Stars
I finished this amazing book last night and am still thinking about the characters and story today. And I think for me that is what separates a good book from a great book. If I finish it and then keep thinking about it, it is a great book. I think of Emery Lord books this one and The Start of Me and You are tied for my favorite. This book had such strong friendships and a slow burn friends first romance (which were also things I loved in The Start of Me and You). I also liked the relationships shown in Lucy's family. The only thing I didn't like was that I wanted a bit more closure at the ending.
I liked how the book explored Lucy's faith as a Christian. She was struggling with this because her mom had gotten cancer again after already having been cured of cancer before. She has grown up as a preacher's kid who always prayed and believed in God. But now she isn't sure if she believes since she thinks God would listen to her prayers and not give her mom cancer again. I liked how the book dealt with this and showed Lucy's journey with this throughout the book, though it didn't take over the entire story.
I loved the summer camp setting. I enjoy reading books that take place during the summer, especially when it is the summer and I realized I really like reading books about a camp too, since there are relationships built there that are fun to read about. This camp was an interesting camp, since it was one for kids who had some kind of emotional trauma reason that allowed them to participate in the camp. Some of them had been abused or in foster homes or were pregnant or had lost parents or other family members.
I loved the friendships that Lucy formed with the other counselors. She had never really had a group of friends at her high school and her closest friend there had been her boyfriend Lukas who had put their relationship on pause for the summer. She meets some other counselors. But they had all grown up going to this camp and she at first felt like she was on the outside of their tight knit group. But quickly she was welcomed by them and became friends with Anna, Mohan, Henry, and Keely. I liked reading about their adventures on Friday nights off and how they would be honest with their feelings in telling their highs and lows of the week. I liked how each of these characters that she became friends with had their own backstories and issues that they were dealing with and how they weren't just in the book without stories.
I loved the romance that developed between Lucy and Jones (or Henry) who was another one of the counselors. It was slow burn and started as a friendship first. And it was cute, and they were also real about their feelings with each other. They were able to communicate successfully and not have overdone drama due to not communicating. Also this romance was interracial since Henry was black. Lucy definitely had a stronger relationship with Henry than her previous relationship with Lukas.
Family was also an important part of this book. This part was sad sometimes since Lucy's mom had cancer and Lucy was dealing with what things she would miss about her mom if she didn't make it. I loved the relationship that she and her mom had though. And there was also a scene that was great where she realized how great her dad really was.
If you like YA contemporary, read this book.
Katie