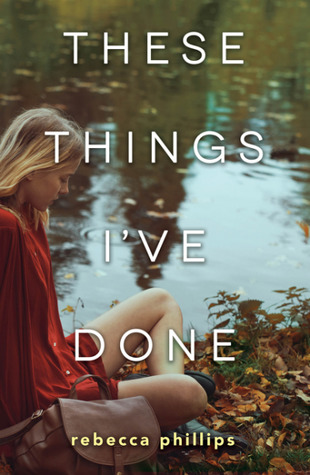 A contemporary YA perfect for fans of Courtney Summers and Jessi Kirby, THESE THINGS I'VE DONE is the story of a seventeen-year-old girl who accidentally caused her best friend's death and, a year later, is still grappling with the consequences.

Before:
Dara and Aubrey have been inseparable since they became best friends in sixth grade. However, as they begin their sophomore year of high school, cracks in their friendship begin to form, testing the bond they always thought was unbreakable.

After:
It's been fifteen months since the accident that killed Aubrey, and not a day goes by that Dara isn't racked with guilt over her role in her best friend's death. Dara thought nothing could be worse than confronting the memories of Aubrey that relentlessly haunt her, but she soon realizes it isn't half as difficult as seeing Ethan, Aubrey's brother, every day. Not just because he's a walking reminder of what she did, but because the more her feelings for him change, the more she knows she's betraying her best friend one final time.
My Review: 5 Stars
I read this book over the span of one day, starting in the early afternoon and finishing at 1:30 AM. This book made me feel all the emotions of the story, and it is a sad book for many parts of it, so I finished it feeling a bit sad. And I realized I definitely cared about Aubrey dying even though she was a fictional character. This story jumped between the timeline of present day (senior year) and the timeline of sophomore year leading up to Aubrey's death. In the sophomore year timeline, I tried not to be attached to Aubrey's character since I knew she was going to die but I ended up loving her character anyway.
The book does a good job showing the strong friendship of Aubrey and Dara in the past timeline sections. It is clear that they care a lot about each other and are there for each other when things are tough. There is a slight rift between them that is created when Aubrey starts dating her first boyfriend, Justin, a boy who Dara had had a slight crush on before his relationship with Aubrey began. Dara finds herself not always able to feel happy for her friend because she is instead jealous. Despite this, I never felt that the friendship became toxic like some other friendships I've read in YA. Instead, it was clear that they still both cared a lot about each other and really just needed to have a good talk and forgive each other's mistakes.
Ethan is the boy who Dara had thought of as just Aubrey's little brother and a friend for a long time, but now, after having been away for a year, she suddenly notices that he has gotten quite attractive in her absence. And the feelings that she starts to have for him are not longer the type of feelings you would have for someone who is like a little brother to you. Ethan is a really sweet guy and while Dara thinks he has the right to be angry at her, since her actions caused the death of his sister who was very important to him, he never once treats Dara in a way that shows that he blames her. In fact, they have conversations about what happened and he specifically says it wasn't Dara
's fault. When their friendship evolves into something more, it is cute. I think I would have also been okay with them staying just friends, but them becoming a couple also worked for the story. I still wonder how they will get past the hurdle of his parents, since that wasn't really explicitly stated.
I really liked Dara's family and how it showed how they struggled too to figure out how they should treat her in the present timeline. Tobias was her little brother who had become kind of scared of Dara since she wasn't the same daring and fun older sister that she used to be. Dara overheard her dad saying she should have waited another year to come back which led her to think that he didn't like her when really he was just thinking about what would be best for her. Her mom is the one who seems the most caring throughout, though I'm sure she struggled plenty too.
If you like YA contemporary, read this book.
Katie