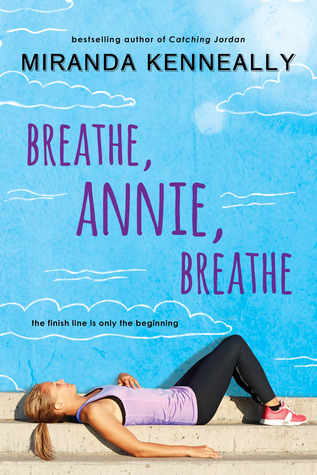 Annie hates running. No matter how far she jogs, she can't escape the guilt that if she hadn't broken up with Kyle, he might still be alive. So to honor his memory, she starts preparing for the marathon he intended to race.
But the training is even more grueling than Annie could have imagined. Despite her coaching, she's at war with her body, her mind—and her heart. With every mile that athletic Jeremiah cheers her on, she grows more conflicted. She wants to run into his arms…and sprint in the opposite direction. For Annie, opening up to love again may be even more of a challenge than crossing the finish line.
My Review:
I loved this book. I expected it would be amazing, since it's a Miranda Kenneally book in the Hundred Oaks series. I'm not completely decided on this, but it may be my favorite of her books yet. I loved the characters in this book, as well as all the cameos of the characters from the other books. For some reason, this book came in the mail several weeks before its release date, so I got to read it early.
POSSIBLE SPOILERS AHEAD
I loved the romance in this one. It was such a slow burn, but with a lot of chemistry between the two characters. I loved how it was slow burn because it really needed to be too. After her last boyfriend's death, it wouldn't seem in character of Annie to rush into a relationship with someone new. The doubts she had about a relationship with Jeremiah made so much sense for someone in her situation. She doesn't want to care about Jeremiah and lose him because he takes so many risks. Of course, when she trying to convince him not to take these risks, she already cares about him, so it's already too late. I could tell that she was totally falling for him.
The running stuff in the book was very interesting. I was so impressed by how much Annie was able to run, and her struggles that she faced with it were so relateable. Of course, she's struggling to make it through many miles, while I struggle to make it through one mile without having trouble breathing. But the issues that she had running many miles were ones that I could see myself having if I actually tried to do that. I was so impressed that she did the half marathon and the marathon. Also, there was a color run in this book, and I had just been to a local color run a few days before starting this book, so that was a funny coincidence.
I loved how the characters went to college before the end of the book. That means that we got to see a bit of college and dorm life in the book, which isn't something that is very typical for young adult novels. I liked how Annie roomed with Vanessa, since I liked her character in Racing Savannah. There are so many cameos in these books. Jordan from Catching Jordan is now a coach at Annie's school, so she had two small cameos. Matt from Things I Can't Forget is Jeremiah's brother, and Annie's running coach.
If you like YA contemporary and Miranda Kenneally books, read this book.
Katie