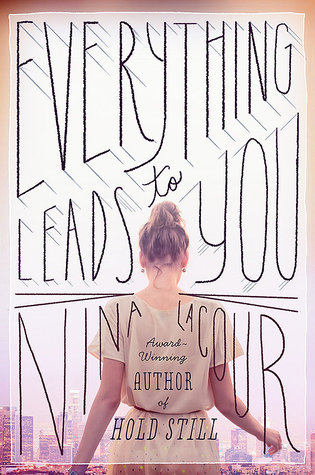 A love letter to the craft and romance of film and fate in front of—and behind—the camera from the award-winning author of Hold Still.
A wunderkind young set designer, Emi has already started to find her way in the competitive Hollywood film world.
Emi is a film buff and a true romantic, but her real-life relationships are a mess. She has desperately gone back to the same girl too many times to mention. But then a mysterious letter from a silver screen legend leads Emi to Ava. Ava is unlike anyone Emi has ever met. She has a tumultuous, not-so-glamorous past, and lives an unconventional life. She's enigmatic…. She's beautiful. And she is about to expand Emi's understanding of family, acceptance, and true romance.
My Review:
This was a wonderful story with a good romance, characters, and plot. I found myself wrapped up in this story and unable to put it down.
The romance in this book is a perfectly done, slow burn. Emi has gone through her on-again, off-again girlfriend breaking up with her for the sixth time. She wants to be able to move on from her, but at the same time, she sometimes just wants to get back together with her again. That is, until she starts falling for someone else. She meets Ava, the granddaughter of a dead film star, who never knew he was her grandfather. Emi meets her when she's investigating a bit of a mystery, but then she begins to fall for her. There is a lot of build-up to the final scene. As a reader, I had a feeling the whole time that Emi and Ava would end up together, so it was more about the journey to that point.
There was also a friendship in this book between Emi and a girl named Charlotte. Charlotte encourages Emi to not get back together with Morgan, her ex, because she cares about Emi and doesn't want her to get hurt again. She is always there for Emi when Emi needs her. They see each other a lot since they both have careers in the movie industry, and they are both living in Emi's brother's apartment. She is there to help Emi through everything, including her developing feelings for Ava.
Emi's family is in this story for part of it, though she doesn't live with them. They are very caring to her, and they are welcoming to her friends. There is a lot about Ava's family in this book as well. She never knew her biological mother or grandfather, and her life would have been quite different if she had known that Clyde Jones was her grandfather. She has plenty of issues with her adopted mother, who was her mother's best friend. She doesn't always treat Ava well, and there is a scene in the book where we see her being a total jerk to her daughter.
If you like YA contemporary, read this book.
Katie