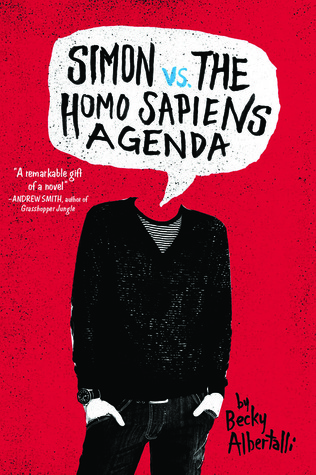 Sixteen-year-old and not-so-openly gay Simon Spier prefers to save his drama for the school musical. But when an email falls into the wrong hands, his secret is at risk of being thrust into the spotlight. Now Simon is actually being blackmailed: if he doesn't play wingman for class clown Martin, his sexual identity will become everyone's business. Worse, the privacy of Blue, the pen name of the boy he's been emailing, will be compromised.

With some messy dynamics emerging in his once tight-knit group of friends, and his email correspondence with Blue growing more flirtatious every day, Simon's junior year has suddenly gotten all kinds of complicated. Now, change-averse Simon has to find a way to step out of his comfort zone before he's pushed out—without alienating his friends, compromising himself, or fumbling a shot at happiness with the most confusing, adorable guy he's never met.
My Review:
This was such a sweet, fun, and light read that I sped through quickly because I couldn't put it down. I had to know how everything would end up turning out in Simon's life. I love this book, and the characters, and everything about it.
POSSIBLE SPOILERS AHEAD
I love Simon's character. He is gay, and in the closet, and it's not necessarily because he thinks people will react badly to it; it's just that he knows people will make a big deal about it, and he doesn't want that to happen. And his town itself is a bit more on the conservative side, so he suspects at least some people won't be supportive. I like his voice, and his thoughts on sexuality, and on things like straight and white being the defaults, and how they shouldn't be, are really interesting to read.
The email relationship between Simon (Jacques in the emails) and Blue (whose real name I will not say since it would be a major spoiler) was absolutely adorable. I loved how they fell for each other's personalities before they even knew who the other was in real life and what they looked like. It showed that there was no way their relationship could be a superficial one based on liking the way the other looked. Yes, once they found out who the other was, they were attracted to them and their looks too, but they fell for the personalities first. I also loved who Blue ended up being, and the actual relationship when they met each other in person, and how adorable they were as an actual couple.
Simon had a good group of friends, and I loved getting to read their dynamics. They fight and they have their issues, but they are good friends to each other. This book shows how adding a new friend to an established group can mess with the dynamics of the people in the group. Leah and Nick have always been Simon's best friends, and Leah has clearly had a crush on Nick for a while. When new girl Abby becomes part of the group, Leah isn't particularly happy about it, since Nick clearly likes Abby and not Leah. Simon is torn between these two at times, and he has to try to avoid getting too involved in drama that could happen. The friends do make mistakes and they do hurt each other sometimes, but they come out of it fine in the end. I also loved how supportive they were of each other, and of Simon.
I love Simon's family as well. They can be a fun group, and they each have their personalities developed well. They do keep secrets from each other, because they have the tendency of getting overly involved in each other's lives, which is one of the reasons that Simon didn't want to come out. If his mom made a big deal about discovering that Simon drinks coffee, then it makes sense that he thinks she would make a big deal of him being gay. And then there's the fact that his dad sometimes makes gay jokes, not knowing how those hurt his gay son, since he has no idea that his son is gay. I love this family, though, and I like how they support Simon in everything, and how they care about him.
If you like YA contemporary, read this book.
Katie