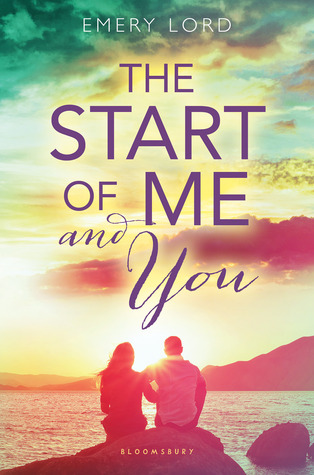 Following her pitch-perfect debut Open Road Summer, Emery Lord pens another gorgeous story of best friends, new love, & second chances.

Brimming with heartfelt relationships and authentic high-school dynamics The Start of Me and You proves that it's never too late for second chances.

It's been a year since it happened—when Paige Hancock's first boyfriend died in an accident. After shutting out the world for two years, Paige is finally ready for a second chance at high school . . . and she has a plan. First: Get her old crush, Ryan Chase, to date her—the perfect way to convince everyone she's back to normal. Next: Join a club—simple, it's high school after all. But when Ryan's sweet, nerdy cousin, Max, moves to town and recruits Paige for the Quiz Bowl team (of all things!) her perfect plan is thrown for a serious loop. Will Paige be able to face her fears and finally open herself up to the life she was meant to live?
My Review:
While I loved Emery Lord's debut, Open Road Summer, I think I may love her sophomore novel, which is this book, even more. I stayed up until 2:30 in the morning to finish reading the last 100 pages of this book, because I just couldn't wait until the next day to find out what would happen in the book. And it didn't disappoint. It was definitely worth staying up late to finish.
POSSIBLE SPOILERS AHEAD
Just like in Lord's first book, there is a strong focus on friendship in this one as well. While her first book was about two best friends, this book focuses on a slightly larger friend group. The main character, Paige, is best friends with Tessa, and Kayleigh and Morgan are best friends, and the four girls are all friends with each other, so it was nice to get to read about a group dynamic. During the school year, these four also become friends with two boys, Ryan and Max, who are cousins and best friends with each other. These friendships are all done so well. The girls do so many things for each other throughout the book, and they know they can rely on one of the others being there when they need them. For example, when Kayleigh gets herself into a tough situation, Paige goes and picks her up when she calls. When Tessa's parents bail on their plans for her birthday, Paige calls the other two and they prepare a birthday surprise for her. The friendship between these girls is so healthy and wonderful to read about.
Now there are also the boys in this book. Paige has had a crush on Ryan since middle school, and she wants to date again this school year after having her boyfriend drown two years ago. She thinks that Ryan is who she wants to date. She doesn't expect Max to suddenly pop up in her life. While I like Ryan and I think that he is a good guy and a sweet guy, I never shipped him with Paige. Max, on the other hand, I was shipping with Paige while she was still crushing on Ryan. Max is a sweet, nice guy, and he had so much more in common than Paige than Ryan did. He was on QuizBowl with her, and they both liked to read for fun. I thought they had a lot of chemistry between them. There were times when I wanted to reach into the book and tell Paige to start considering Max as more than a friend. I loved their friendship too though. She started telling him things that she hadn't told anybody before, sometimes things that she hadn't even told Tessa. And he also told her so much about him. I loved these two together, though I wish we could have had more of them being together as a couple in the book.
There was also a focus on family in this book. Paige's parents are in a unique situation, since they have been divorced five years, and at the start of this book, they have started to date each other again. Paige and her younger sister Cameron have different opinions on this. Cameron is happy that they are dating again, because she wants them to get back together. Paige, on the other hand, remembers how miserable they were before the divorce, and she's afraid that if they get back together, that will just end up happening again. It is a road for Paige to be able to accept their relationship but she gets better with it eventually. Paige also has her grandmother with Alzheimer's who she goes to talk to. She spills many of her secrets to her grandma, since she knows her grandma won't remember them later. Her grandma is the first one to say that she thinks Paige might like Max as more than a friend.
If you like YA contemporary, read this book.
Katie