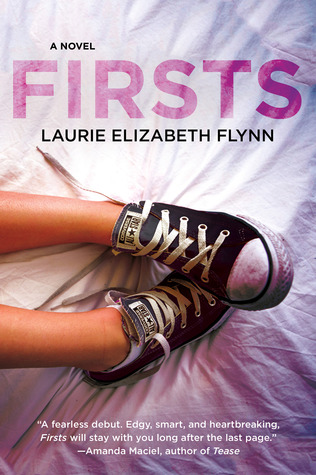 Seventeen-year-old Mercedes Ayres has an open-door policy when it comes to her bedroom, but only if the guy fulfills a specific criteria: he has to be a virgin. Mercedes lets the boys get their awkward, fumbling first times over with, and all she asks in return is that they give their girlfriends the perfect first time- the kind Mercedes never had herself.

Keeping what goes on in her bedroom a secret has been easy- so far. Her absentee mother isn't home nearly enough to know about Mercedes' extracurricular activities, and her uber-religious best friend, Angela, won't even say the word "sex" until she gets married. But Mercedes doesn't bank on Angela's boyfriend finding out about her services and wanting a turn- or on Zach, who likes her for who she is instead of what she can do in bed.

When Mercedes' perfect system falls apart, she has to find a way to salvage her reputation and figure out where her heart really belongs in the process. Funny, smart, and true-to-life, FIRSTS is a one-of-a-kind young adult novel about growing up.
My Review: 4 Stars
I received this book as an ARC in exchange for an honest review. I really liked this book, even if the characters weren't all the typically "likable" characters. I liked how this book could make me root for characters that I probably wouldn't even like if I encountered them in real life. Because of this, of course, it will make me think more about how I view those people in real life as well.
Mercedes was not a character that I would expect to like. I disagreed with much of what she did in this book. And yet, I rooted for her character, and wanted her to be happy. I wanted her to have a better home life, instead of having her mother who didn't really care about her. I wanted her to realize that this thing with the virgins was going to end up hurting her instead. And I wanted her to open herself up more to relationships that could be good for her, with people who really cared about her.
I really enjoyed watching her relationships with Zach and Faye. Zach was originally her "Wednesday friend," which basically meant they hooked up on Wednesdays. It was pretty clear from the beginning that he wanted more than that, but she was afraid to get too close to him emotionally. I liked to see the progression of their relationship. Of course, it wasn't easy, since he didn't even know about her thing with the virgins, but I loved how he was a genuinely great and supportive guy, and how he stuck by her when most others didn't, even when he might have reason to be upset. Faye was the new girl to school who quickly became good friends with Mercedes. I liked this friendship and how great Faye was to her through everything that happened in the book.
If you like YA contemporary, read this book.
Katie