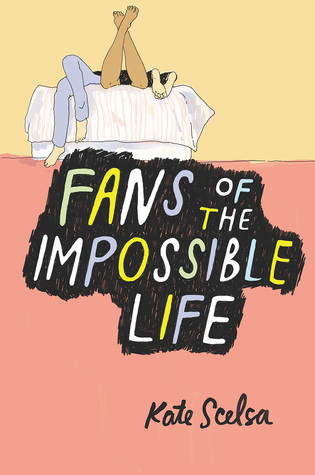 Ten months after her recurring depression landed her in the hospital, Mira is starting over at Saint Francis Prep. She promised her parents she would at least try to pretend that she could act like a functioning human this time, not a girl who can't get out of bed for days on end, who only feels awake when she's with Sebby.

Jeremy is the painfully shy art nerd at Saint Francis who's been in self-imposed isolation after an incident that ruined his last year of school. When he sees Sebby for the first time across the school lawn, it's as if he's been expecting him.

Sebby, Mira's gay best friend, is a boy who seems to carry sunlight around with him like a backlit halo. Even as life in his foster home starts to take its toll, Sebby and Mira together craft a world of magic rituals and impromptu road trips, designed to fix the broken parts of their lives.

As Jeremy finds himself drawn into Sebby and Mira's world, he begins to understand the secrets that they hide in order to protect themselves, to keep each other safe from those who don't understand their quest to live for the impossible.

A captivating and profound debut novel, Fans of the Impossible Life is a story about complicated love and the friendships that change you forever.
My Review: 4 Stars
This was a book that was very interesting and a quick read. I was able to get invested in the characters pretty quickly, and I wanted everything in their lives to work out for them, though sometimes it seemed like that was a difficult thing to hope for, since they all had a lot of struggles.
Mira started at a new school in the beginning of the book after spending time in a hospital for depression and chronic fatigue. She was into shopping at thrift stores and designing some of her own clothes. I had trouble liking her family, since it seemed like they always treated her as the problem child. She may not have been as perfect as her older sister who studied at Harvard, but she had her own strengths, and she didn't deserve that treatment from her parents. Her older sister, Julie, was also rather condescending and hurtful to her.
Sebby, Mira's best friend, was a gay boy in foster care. He had a really tough life, though I think at least some of it was his own doing. He chose not to go to school at all, though he did go to school before a bullying incident that landed him in the hospital. He did not really get along well with his foster mom. I wasn't entirely happy with the conclusion that was given to him in the book, since it didn't seem too happy, after all he'd been through.
Jeremy was a nice, shy boy with two dads who was also gay. I really loved his character because he was just such a good guy, who had been through some tough things. But his dads loved him. He definitely had the best family and home life out of the three characters. I liked seeing him get swept up in the world of Sebby and Mira.
Peter was a teacher in the book. I struggled with his actions. I feel like he really cared about the students, yet he also seemed to cross boundaries, by letting them into his home and things like that. I ultimately don't think he really did anything that was that wrong, though.
If you like YA contemporary, read this book.
Katie