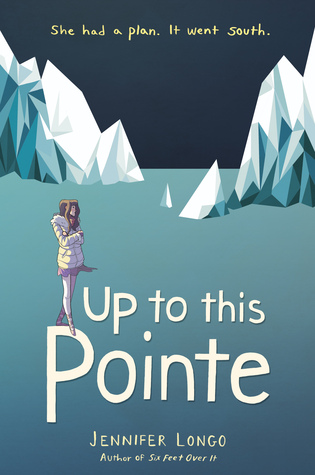 She had a plan. It went south.

Harper is a dancer. She and her best friend, Kate, have one goal: becoming professional ballerinas. And Harper won't let anything—or anyone—get in the way of The Plan, not even the boy she and Kate are both drawn to.

Harper is a Scott. She's related to Robert Falcon Scott, the explorer who died racing to the South Pole. So when Harper's life takes an unexpected turn, she finagles (read: lies) her way to the icy dark of McMurdo Station . . . in Antarctica. Extreme, but somehow fitting—apparently she has always been in the dark, dancing on ice this whole time. And no one warned her. Not her family, not her best friend, not even the boy who has somehow found a way into her heart.
My Review: 4 Stars
This was certainly a unique book because I've never read a book set in Antarctica before. I really liked the development of the characters throughout this story, as well as getting to read a book in such a unique setting.
Harper's character development was a big part of this story. She didn't know what to do with her life when her ballet plan didn't work out for her. So she ended up going to Antarctica in a science program when she wasn't even interested in science. She ended up discovering a lot of things about herself there, like a direction for her future. I really liked seeing how she changed over the time spent in Antarctica. She really found out what she wanted from her life.
I enjoyed seeing some of the friendships in the book. Kate was Harper's best friend who did ballet with her. They had a plan to be in the San Francisco ballet company together. They both said some things that they regretted before Harper went to Antarctica. Their friendship wasn't just automatically better, but they had to work on fixing what had gone wrong. Vivian worked with Harper as another research assistant. She took a while to warm up to Harper, but once she did, she was a really good friend for her. Charlotte was the person who was doing the research that Harper was an assistant for, and she and Harper genuinely became friends during the book, and Harper was there to help Charlotte during some tough times.
If you like YA contemporary, read this book.
Katie