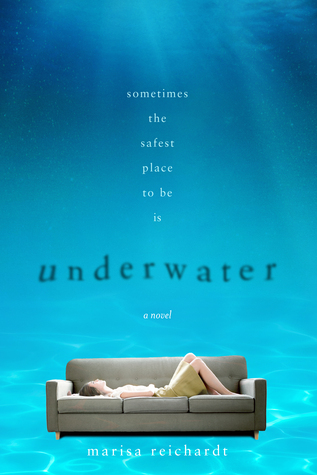 Morgan didn't mean to do anything wrong that day. Actually, she meant to do something right. But her kind act inadvertently played a role in a deadly tragedy. In order to move on, Morgan must learn to forgive—first someone who did something that might be unforgivable, and then, herself.

But Morgan can't move on. She can't even move beyond the front door of the apartment she shares with her mother and little brother. Morgan feels like she's underwater, unable to surface. Unable to see her friends. Unable to go to school.

When it seems Morgan can't hold her breath any longer, a new boy moves in next door. Evan reminds her of the salty ocean air and the rush she used to get from swimming. He might be just what she needs to help her reconnect with the world outside.

Underwater is a powerful, hopeful debut novel about redemption, recovery, and finding the strength it takes to face your past and move on.
My Review:
Underwater is a great book that I read in a bit over a day. I really liked it and it was a great example of really developing a character. I was rooting for Morgan the entire time, and I was glad when she took small strides and accomplished more. There was a great family in this story, as well as an adorable love interest. Also, I read this book and am writing this review in August, even though it isn't going to go up until January.
Morgan goes through a lot of development in this book. She starts out the book as someone who is afraid to leave her apartment, for reasons that are fully disclosed later in the book. While I couldn't personally relate to her, reading about her anxiety was interesting, and it was sometimes painful to see how much she was affected by it and how much it hurt her. Her fear really was such a big part of her life, and it was keeping her from doing things that she wanted to do, like start swimming again, since she used to be on the swim team.
Evan was the boy who moved in next door, and he was so sweet, and good for Morgan too. He was patient with her and understood her limitations. He was also there for her and didn't pressure her to do more than she could. He did get frustrated sometimes, but he never judged her for what she was going through. Sure, it wasn't an easy road for them, and he had also experienced some loss that was difficult for them. I loved the two of them together, though, when they got to that point. Both of them were good for the other, and they were able to be there for each other.
Morgan's mom and brother were really good family members, and her dad was not so great. Her dad had been in several tours with the military, and he had some issues as a result of that, the main one being his drinking. Morgan's mom officially divorced him after he continued to not care about the family at all. Morgan had her mom who was there to support her, even if she may have also wished that her daughter would be able to move on and leave the apartment. Morgan also had an adorable younger brother named Ben. He was only five, and he had to deal with a lot of difficult things at such a young age in this book, like having to understand why his sister would never go outside.
I liked how important Morgan's therapist, Brenda, was to the book. There were many scenes with them in it, and she really helped Morgan to do better and to get out more. She was always there for her, and she was supportive and nice about it too. I mean, it's her job of course, but I feel like she really cared about Morgan beyond it being a job obligation.
If you like YA contemporary, read this book.
Katie