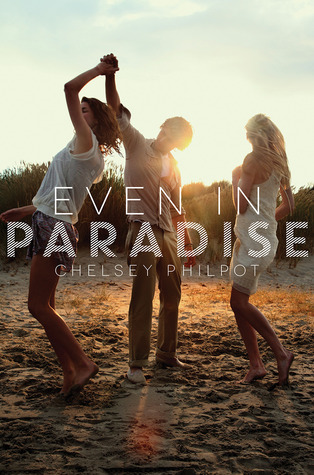 When Julia Buchanan enrolls at St. Anne's at the beginning of junior year, Charlotte Ryder already knows all about the former senator's daughter. Most people do... or think they do.

Charlotte certainly never expects she'll be Julia's friend. But almost immediately, she is drawn into the larger than-life-new girl's world—a world of midnight rendezvous, dazzling parties, palatial vacation homes, and fizzy champagne cocktails. And then Charlotte meets, and begins falling for, Julia's handsome older brother, Sebastian.

But behind her self-assured smiles and toasts to the future, Charlotte soon realizes that Julia is still suffering from a tragedy. A tragedy that the Buchanan family has kept hidden... until now.
My Review:
Even in Paradise is a beautifully written and atmospheric story that is reminiscent to The Great Gatsby in that it is a story about an outsider becoming part of a life of someone who has an extravagant life of parties and such things like that. This story draws you into the world of Julia and the Buchanans, just as Charlie gets drawn in as well.
POSSIBLE SPOILERS AHEAD
Charlie is a well-drawn character in this book. I certainly didn't agree with every choice that she made, but I could see what her motives were behind making the choices that she did. When she dropped all her friends for Julia, I didn't think that was a good idea, but it seemed like she had no choice but to put either everything or nothing in that friendship. I thought it was especially hurtful to Rosalie, since she had been her roommate for so long, and Charlie just dropped her as a friend, basically. She deserved better than that from her. Though I was glad to see Rosalie forgive her near the end, and for there to be some reconciliation there, even if Charlie didn't really deserve it.
Julia and the rest of the Buchanan family are fascinating and intriguing. Julia's brother, Sebastian, was sweet to Charlie most of the time, though he made mistakes as well, by sometimes showing that he was a bit snobbier because of the lifestyle that he was used to living. He made a couple thoughtless comments to Charlie because of that that made him a bit less endearing. Boom was a sweet father and always good to Charlie. I liked how the family had all their nicknames to each other that didn't necessarily make sense to people outside of the family. Something that I didn't like about the family was how they acted as if Julia was Charlie's responsibility now that Charlie was friends with her. Boom basically told her that she had to be her roommate the next year, which was unfair of him to make her feel obligated to do so.
I always love boarding school settings, and this book was no exception. It makes for a different school experience for the characters when they are living there together all the time. This was important in Julia and Charlie's story, since they probably wouldn't have met if this hadn't been a boarding school.
If you like Gatsby-ish contemporary YA, read this book.
Katie