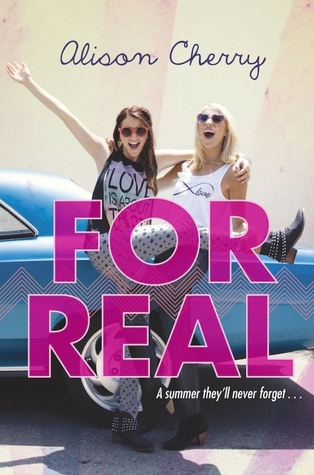 No parents. No limits. No clue what they're in for.

Shy, cautious Claire has always been in her confident older sister's shadow. While Miranda's life is jam-packed with exciting people and whirlwind adventures, Claire gets her thrills vicariously by watching people live large on reality TV.

When Miranda discovers her boyfriend, Samir, cheating on her just before her college graduation, it's Claire who comes up with the perfect plan. They'll outshine Miranda's fame-obsessed ex while having an amazing summer by competing on Around the World, a race around the globe for a million bucks. Revenge + sisterly bonding = awesome.

But the show has a twist, and Claire is stunned to find herself in the middle of a reality-show romance that may or may not be just for the cameras. This summer could end up being the highlight of her life... or an epic fail forever captured on film. In a world where drama is currency and manipulation is standard, how can you tell what's for real?
My Review:
I sped through this fun page-turner about a reality TV journey around the world show. I loved getting to know the characters, and getting to read about all of the rather crazy challenges that they had to complete.
POSSIBLE SPOILERS AHEAD
I love Claire's character growth throughout the book. There are things that happen on the show that put her out of her comfort zone, but they also really help her to grow as a person. The people that she meets and the relationships that she forges while on the show help build this character development. Partway through the story, she realizes that she is on the trip not just for Miranda, but also for herself.
The sibling relationship between Miranda and Claire definitely was not perfect, and there were times in the book when they fought and were able to work through the issues that they had with each other. My main complaint about Miranda was that she often was patronizing to Claire whenever they had their interviews together. She seemed to always think that everything would be so difficult for Claire, and she often said how proud she was that Claire made it through, as if she had thought she wouldn't make it through. I do think she was trying to look out for Claire when she did things like warn her about how boys can be.
Will Divine is a character who deserves his own paragraph, though I'm not really sure how to correctly talk about him without spoiling. I liked him very much at the beginning, and enjoyed reading his flirtations with Claire. He was such a sweet guy to her. But what this book explores is how much of reality TV is actually reality, and part of that includes Will. Will is an actor, but the question is - is he acting or being real in his interactions with Claire?
The show was also so much fun, because it involved doing challenges that were like marriage rituals in different countries. Some of these marriage rituals were quite unusual and strange, which made for some fun challenges to read about.
If you like YA contemporary, read this book.
Katie