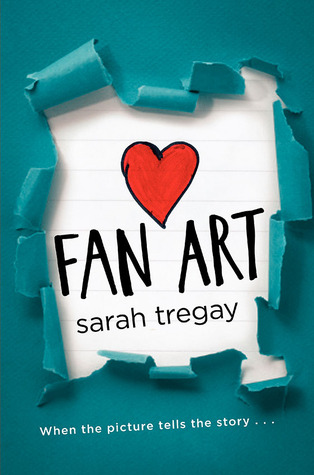 When the picture tells the story…
Senior year is almost over, and Jamie Peterson has a big problem. Not college—that's all set. Not prom—he'll find a date somehow. No, it's the worst problem of all: he's fallen for his best friend.
As much as Jamie tries to keep it under wraps, everyone seems to know where his affections lie, and the giggling girls in art class are determined to help Jamie get together with Mason. But Jamie isn't sure if that's what he wants—because as much as Jamie would like to come clean to Mason, what if the truth ruins everything? What if there are no more road trips, taco dinners, or movie nights? Does he dare risk a childhood friendship for romance?
This book is about what happens when a picture reveals what we can't say, when art is truer than life, and how falling in love is easy, except when it's not. Fan Art explores the joys and pains of friendship, of pressing boundaries, and how facing our worst fears can sometimes lead us to what we want most.
My Review:
Fan Art was a sweet, fluffy LGBT book. The story was cute, with a good build-up to the romance. From the beginning, I knew who Jamie was going to end up with, so it was about the journey to seeing that actually play out.
POSSIBLE SPOILERS AHEAD
Jamie was a well-written character. He makes plenty of mistakes throughout the book, but he's a good guy. He has come out to his family, but he is afraid of rejection, so he is not comfortable coming out to his friends. He doesn't want to lose them if they are unwilling to accept his sexuality. Also, his mom and stepdad are awesome. I loved how they were supportive of his sexuality. They didn't care that he was gay, and his mom even encouraged him to start dating boys. She hoped that he would bring a boyfriend home to meet her someday.
Mason was such a sweet guy as well. I liked seeing how Jamie's feelings for him developed, even though he tried to ignore them. He didn't seem like the type of guy who wouldn't accept Jamie's sexuality, yet I can still understand why Jamie was reluctant to tell him. I figured that he probably felt the same way about Jamie. There were some moments when it seemed more obvious, like during the whole McCall fiasco. The romance with Jamie and Mason was adorable, especially the moments that they shared after graduation. It doesn't seem like it is going to be easy for Mason to be out, especially with his dad, but I think he's still going to be okay. Plus, he's leaving for college in the fall, so he won't have to see his dad as much.
Eden is a good friend of Jamie's in the book. She has figured out his sexuality with her own gaydar. She is lesbian, so she knows what it's like, though she is technically out in school, though her family won't accept her as out, making her have pretty much the opposite situation as Jamie. She is Jamie's prom date, and he even pretends they are really dating so her family will think she's dating a boy. She also has a brother, Nick, who is quite homophobic, and calls Jamie "fagmag." Jamie refers to him as the Redneck. It is interesting to see how homophobic he is when is own sister is a lesbian. Eden really wants Jamie and Mason to be a couple, which is nice, but sometimes she takes this a little too far, like when she draws a picture of them without thinking about how the picture could make Jamie feel.
There is a plot throughout about the literary magazine, Gumshoe, and how Jamie is trying to get an LGBT comic included. This plot was interesting, because it showed how unwilling some people were to have this included. In the end, Jamie made a mistake with how he went about including the conflict, but I can see that a compromise wasn't going to happen. Some of the poems in the book that were in the magazine were pretty interesting.
If you like YA light contemporary LGBT, read this book.
Katie