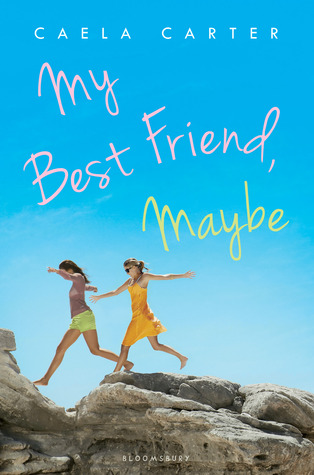 Colette has been bored and lonely ever since her best friend, Sadie, dumped her the summer before they stared high school. She tries to be perfect for everyone left in her life: her parents, her younger brothers, her church youth group, even her boyfriend, Mark. But Colette is restless. And she misses Sadie.
When Sadie tells Colette that she needs her old friend to join her on a family vacation to the Greek Islands, one that leaves in only a few days, Colette is shocked to hear their old magic word: need. And she finds herself agreeing.
Colette tries to relax and enjoy her Grecian surroundings but it's not easy to go on vacation with the person who hurt you most in the world. When the reason for the trip finally surfaces, Colette finds out this is not only a fun vacation. Sadie has kept an enormous secret from Colette for years...forever. It's a summer full of surprises, but that might be what Colette needs.
My Review:
I had this book on preorder months in advance, and I would have started it directly upon its arrival if I didn't have so many books checked out from the library that I needed to read. I started reading this about a week after it came in the mail, and I finished it in two days, during a busy weekend. I really loved the story and characters, and it did not disappoint.
The main focus of this story is the complicated friendship between Colette and Sadie. The end of their friendship was full of so many misunderstandings that both of them blame the other for its end. There is a big secret that Sadie is keeping that relates to why the friendship ended. There is a character's sexuality that is not revealed until close to the end, though it has been shelved as LGBT on Goodreads, so I don't really consider this a big spoiler. I feel like this could have been revealed earlier in the story, but part of the story is that Colette never knew about this person's sexuality.
Colette struggles throughout the book with her relationships with boys. She has been in a relationship with Mark for two years, and she has always told him that she loved him. But she is sometimes confused about their relationship because he doesn't seem physically attracted to her, and he always seems to need a reason to make out. One time, when he makes out with her, he apologizes for it afterwards. He is religious, and is overly concerned with being perfect all the time, so much so that he hides his imperfections from Colette. They have so many secrets that they keep from each other that it seems like their relationship has become pretty much dysfunctional. When Colette decides to go to Greece instead of on a mission trip with Mark, he says that their relationship is over. In Greece, she gets to spend some time with Sadie's older brother, Sam. Her time with him gives her an idea of what a relationship with somebody other than Mark could be like.
The story also showed Colette's relationship with her family, though she is across the globe from them for most of the book. I was not a fan of Colette's mom. She had very close-minded views, but the main thing I didn't like was something Colette found out she had said to someone several years earlier. What she said was awful, and the person she said it to was only about thirteen or fourteen years old, and she certainly didn't deserve to hear what Colette's mom said to her. Colette's mom does experience some character growth throughout the book, though, which was good. Colette's dad was someone who I liked much more, though he isn't perfect either.
If you like YA contemporary, read this book.