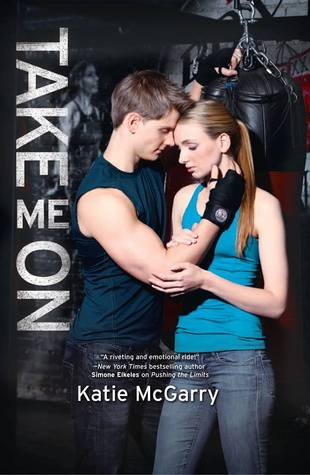 Acclaimed author Katie McGarry returns with the knockout new story of two high school seniors who are about to learn what winning really means.

Champion kickboxer Haley swore she'd never set foot in the ring again after one tragic night. But then the guy she can't stop thinking about accepts a mixed martial arts fight in her honor. Suddenly, Haley has to train West Young. All attitude, West is everything Haley promised herself she'd stay away from. Yet he won't last five seconds in the ring without her help.

West is keeping a big secret from Haley. About who he really is. But helping her-fighting for her-is a shot at redemption. Especially since it's his fault his family is falling apart. He can't change the past, but maybe he can change Haley's future.

Haley and West have agreed to keep their relationship strictly in the ring. But as an unexpected bond forms between them and attraction mocks their best intentions, they'll face their darkest fears and discover love is worth fighting for.
My Review:
This was the fourth Katie McGarry book that I've read, and, as usual, it did not disappoint me. I was captivated by the story and the characters, and rooting for the romance.
POSSIBLE SPOILERS AHEAD
While West may not have always been the greatest brother to Rachel in Crash Into You, he feels so much guilt about it now. He is avoiding visiting Rachel at the hospital, because he blames himself for her accident. It is sad to read the way he beats himself up over this, thinking about how if he hadn't stolen her money, she would have never been in that car accident. Not only is he dealing with this, but he also gets expelled from school for fighting, which makes his parents disappointed in them. He has to deal with being kicked out of the house, and where he can live when he doesn't have anywhere to go.
Haley certainly has not had an easy life. After her family lost their home, they have moved in with her uncle. Her uncle is strict, and he would use any excuse to throw her family out of the house, so Haley has to be careful not to do anything wrong. Not only is she dealing with this, but she has also had a bad end to her relationship with her ex-boyfriend, Matt, who is a jerk. More about the end of their relationship is revealed as the book progresses. Haley was a kickboxer who held a national title until she decided to quit fighting. Her grandfather owns a martial arts gym, and, though he cares about her, he is upset with her for quitting the fighting. He wants her to come back to his gym and fight for him. She has a brother, Kaden, and a cousin, Jax, who are involved in martial arts at the grandfather's gym. They care about Haley, and they did not like Matt, and the relationship she had with him. They also worry about her relationship with West, because they care about her and don't want her to get hurt. They were good family to her.
Watching the relationship develop between Haley and West was awesome. From the beginning, I was rooting for these two as a couple, even when they didn't actually like each other. Haley is so determined not to get involved with West because he's a fighter, like her ex. The fact that West offered to fight her ex in her honor was so sweet. I liked seeing their relationship change as they had to spend time together when Haley was training West for the fight. The growth of their relationship into a friendship with obvious chemistry seemed to develop quite naturally. The chemistry was so great, and I love this romance.
If you like YA contemporary, read this book. You should probably read all the previous Katie McGarry books first, though.
Katie