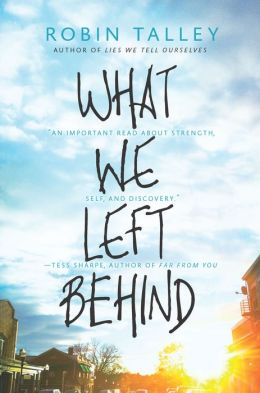 From the critically acclaimed author of Lies We Tell Ourselves comes an emotional, empowering story of what happens when love isn't enough to conquer all.
Toni and Gretchen are the couple everyone envied in high school. They've been together forever.
They never fight. They're deeply, hopelessly in love. When they separate for their first year at college—Toni to Harvard and Gretchen to NYU—they're sure they'll be fine. Where other long-distance relationships have fallen apart, their relationship will surely thrive.
The reality of being apart, however, is a lot different than they expected. As Toni, who identifies as genderqueer, falls in with a group of transgender upperclassmen and immediately finds a sense of belonging that has always been missing, Gretchen struggles to remember who she is outside their relationship.
While Toni worries that Gretchen, who is not trans, just won't understand what is going on, Gretchen begins to wonder where she fits in Toni's life. As distance and Toni's shifting gender identity begins to wear on their relationship, the couple must decide—have they grown apart for good, or is love enough to keep them together?
---
I'm starting Mark You Calendars as a feature on my blog that I will use sometimes if I want to do a mini review of an ARC when it's still a while until it's release date. I haven't gotten many ARCs before, and I still don't think I'll have very many, so this probably won't be a very regular feature. Anyway, the reason I decided to start this was because I read the amazing and important What We Left Behind by Robin Talley, and loved it. If this book isn't on your radar already, then put it on your radar. Now I will give you some reasons why you should read this book.
1. This book is full of diversity all around. There is a lot of diversity in sexual orientation and gender, and there is also some racial diversity. The main characters of this book are basically all somewhere under the LGBTQIA umbrella. I'm going to have a detailed paragraph on this in my full review, but for now, this is all I'm going to say on this.
2. This book has a preestablished relationship at the start of the book, which I feel is really rare in YA books. There are often the books that have a lot of buildup with the readers "shipping" the characters until they finally kiss, and this is not one of those books. Don't get me wrong, I like those books, but it was refreshing to read something different.
3. This book is set in college. I think many high school students would really like to read books that feature college life at the center of the story. It was interesting to read a book about two people's freshmen year of college as a person who just finished my freshmen year of college.
Anyway, those are three of the reasons why this book is unique, and why everyone should read it. Also, it should be a good sign that I dropped all other books to read this one as soon as I got the ARC, and I neglected all other books that I had been reading until I reached the final page of this story. This book is scheduled to release on October 27th, and I highly recommend preordering your copy today. I know I'll be buying the hardcover since it a fabulous book, and because I want that beautiful cover for my shelves.
Katie