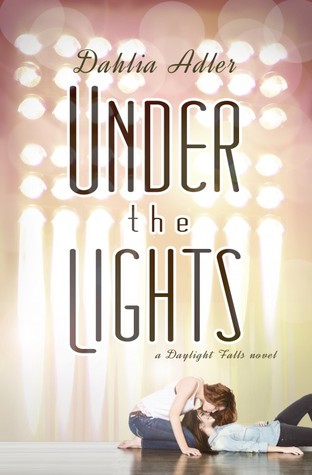 Josh Chester loves being a Hollywood bad boy, coasting on his good looks, his parties, his parents' wealth, and the occasional modeling gig. But his laid-back lifestyle is about to change. To help out his best friend, Liam, he joins his hit teen TV show, Daylight Falls...opposite Vanessa Park, the one actor immune to his charms. (Not that he's trying to charm her, of course.) Meanwhile, his drama-queen mother blackmails him into a new family reality TV show, with Josh in the starring role. Now that he's in the spotlight—on everyone's terms but his own—Josh has to decide whether a life as a superstar is the one he really wants.

Vanessa Park has always been certain about her path as an actor, despite her parents' disapproval. But with all her relationships currently in upheaval, she's painfully uncertain about everything else. When she meets her new career handler, Brianna, Van is relieved to have found someone she can rely on, now that her BFF, Ally, is at college across the country. But as feelings unexpectedly evolve beyond friendship, Van's life reaches a whole new level of confusing. And she'll have to choose between the one thing she's always loved...and the person she never imagined she could.
My Review:
I sped through this book in a very short period of time. I started it in the evening, and I finished it by noon the next day. When I woke up, I had basically done nothing but eat breakfast and read this book until I was finished reading this book. This book was full of great characters, and a great storyline.
First, I'm going to talk about Josh's character. I definitely am not in agreement with some of the things he did, like having many different sexual encounters all the time, but he was a good guy in one of the ways that really mattered. I liked seeing him as the softer Josh who started to be really friends with Vanessa, even though Vanessa never would have guessed that he would become her friend. He was also so supportive of her, and I really loved it.
One of the major parts of this book is, of course, the new romance that Van ends up having in this book. When the book starts, Van is in a kind-of relationship with a boy band star named Zander, but they don't really have any chemistry, and she doesn't feel super committed to this relationship. Then she meets Bri, her publicist's intern and daughter. Bri and Van immediately have a lot of chemistry, and we know almost right away that Bri is bisexual. Of course, at this point, Van thinks that she is straight, and that she and Bri are just friends, though that certainly doesn't stop her from flirting with Bri. There is some drama on the way to them starting a relationship, but it's clear that they both want to be with each other. The one thing that really causes the drama is Van being afraid that coming out will keep her from getting roles since she already has trouble getting roles as an Asian American actress.
I liked the cameos of Ally and Liam. I loved how both Van and Josh came up with #LiamProblems, since the problems that Liam had were girls liking him and getting many movie roles thrown at him. There wasn't that much of Liam in this book, since he was often stressed out about filming shows and movies. Ally was also in this book, and it was clear that her leaving for college did have an affect on Van, since she really didn't want her best friend to go all the way across the country. I loved how they still tried to stay in touch, and how supportive Ally was of Van with everything.
If you like YA fluffy contemporary, read this book.
Katie