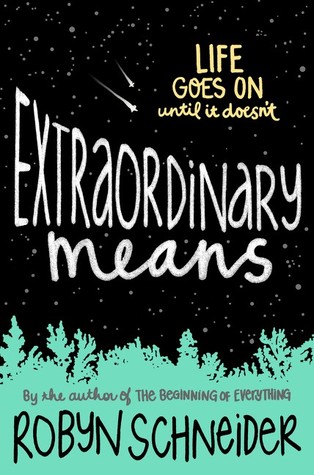 From the author of The Beginning of Everything: two teens with a deadly disease fall in love on the brink of a cure.

At seventeen, overachieving Lane finds himself at Latham House, a sanatorium for teens suffering from an incurable strain of tuberculosis. Part hospital and part boarding school, Latham is a place of endless rules and confusing rituals, where it's easier to fail breakfast than it is to flunk French.

There, Lane encounters a girl he knew years ago. Instead of the shy loner he remembers, Sadie has transformed. At Latham, she is sarcastic, fearless, and utterly compelling. Her friends, a group of eccentric troublemakers, fascinate Lane, who has never stepped out of bounds his whole life. And as he gradually becomes one of them, Sadie shows him their secrets: how to steal internet, how to sneak into town, and how to disable the med sensors they must wear at all times.

But there are consequences to having secrets, particularly at Latham House. And as Lane and Sadie begin to fall in love and their group begins to fall sicker, their insular world threatens to come crashing down.

Told in alternating points of view, Extraordinary Means is a darkly funny story about doomed friendships, first love, and the rare miracle of second chances.
My Review:
This book was heartbreaking and beautiful and I loved it so much. I don't typically cry during books, and I didn't cry during this one, but I did come pretty close, which is saying a lot in my case, since that doesn't happen very often. This book really made me feel all the emotions, and I mean that in a good way.
The ship is beautiful and I love everything about this ship. The ship is between the two narrators, Lane and Sadie. Sure, it starts out with a bit of a misunderstanding when she thinks she hates him because she thinks he did something mean to her at summer camp when they were 13, but that gets cleared up pretty quickly. After that is cleared up, they are bantery and flirty and adorable, and I love them so much as a couple, and as individuals too. Of course, falling in love in a place for people with an incurable disease could easily be a setup for heartbreak, since people will either make it out alive and go back to the real world, where they live in different places and would have to have a long-distance relationship, or people will die in Latham House.
Latham House was an interesting place to set this story, since it was basically a place to hold these people and treat them until they either got better or died. The "school" that they had there was basically a joke, since the doctors expected everyone to put their lives on hold while at Latham House. It would seem that a book set in this setting would be all sadness, but that isn't true. There were definitely lighter and happier moments in this book, especially with Sadie's group and Lane hanging out.
If you like YA contemporary that is emotional, read this book.
Katie