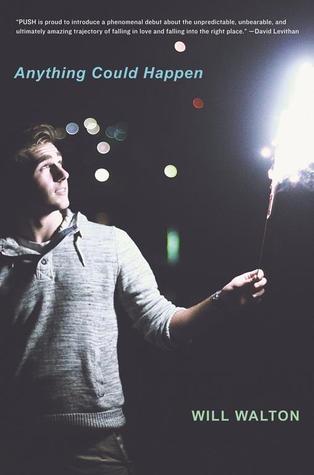 When you're in love with the wrong person for the right reasons, anything could happen.

Tretch lives in a very small town where everybody's in everybody else's business. Which makes it hard for him to be in love with his straight best friend. For his part, Matt is completely oblivious to the way Tretch feels – and Tretch can't tell whether that makes it better or worse.

The problem with living a lie is that the lie can slowly become your life. For Tretch, the problem isn't just with Matt. His family has no idea who he really is and what he's really thinking. The girl at the local bookstore has no clue how off-base her crush on him is. And the guy at school who's a thorn in Tretch's side doesn't realize how close to the truth he's hitting.

Tretch has spent a lot of time dancing alone in his room, but now he's got to step outside his comfort zone and into the wider world. Because like love, a true self can rarely be contained.

ANYTHING COULD HAPPEN is a poignant, hard-hitting exploration of love and friendship, a provocative debut that shows that sometimes we have to let things fall apart before we can make them whole again.
My Review:
I really enjoyed this read. It was a light and cute LGBT read, with some serious parts as well. I really enjoyed the characters and the story, and it was a quick read.
POSSIBLE SPOILERS AHEAD
A lot of this story was a kind of coming-of-age story for Tretch. He starts the book knowing that he is gay, but being completely in the closet, and by the end of the story, he comes out to some people. He also is able to become comfortable with who he is even though he knows that the guy he likes may never like him in the same way. He also does some dance routines at a dance party, which is something that he had been working at for a while, and he finally got to let it shine.
Two of my favorite secondary characters in this book were Matt's dads. I thought they were good positive role models in Tretch's life, since they were both gay, and they were able to find love with each other. I think this shows Tretch that there is hope for him to find a love like that too, even though his current crush is unrequited.
Reading about Tretch's crush on Matt was painful at times, since it was clear how much he really liked Matt and hoped that Matt was also gay and in the closet. It was clear to me as the reader, though, that Matt was definitely straight, since there was a girl that he really liked. I think Matt was a really good friend to Tretch, even though he could never feel the way that Tretch wanted him to feel. From the beginning, I knew that if Tretch did decide to come out to Matt, I was sure that Matt would accept him because his dads were gay, so he should be comfortable being friends with someone who's gay.
I liked the storyline with the family. Tretch's grandparents had a part in the story, which I've seen a few times before in YA fiction, but not very often. I liked how important they were to him, and how upset he was when he heard that they might have some health issues. Also, Tretch did come out to someone in his family, and this person basically said, "That's cool," and then they moved on with what they were doing. I thought it was really cool that this person reacted that way, because it was nice to see family be accepting instead of being upset about a family member being gay.
I liked the secondary characters. I felt bad for Lana because she really liked Tretch, and she thought that they truly had a connection over books at the bookstore. Unfortunately, he never could like her in that way, so her crush on him was as unrequited as Tretch's crush on Matt. I thought she was a good friend to Tretch, though.
If you like YA contemporary, read this book.
Katie