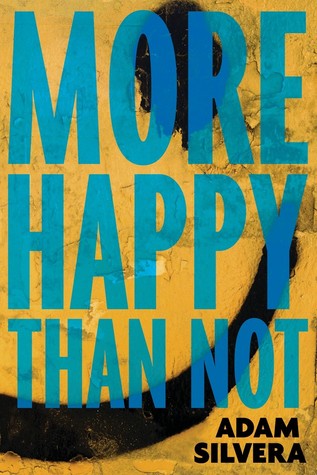 The Leteo Institute's revolutionary memory-relief procedure seems too good to be true to Aaron Soto -- miracle cure-alls don't tend to pop up in the Bronx projects. But Aaron can't forget how he's grown up poor or how his friends aren't always there for him. Like after his father committed suicide in their one bedroom apartment. Aaron has the support of his patient girlfriend, if not necessarily his distant brother and overworked mother, but it's not enough.

Then Thomas shows up. He has a sweet movie-watching setup on his roof, and he doesn't mind Aaron's obsession with a popular fantasy series. There are nicknames, inside jokes. Most importantly, Thomas doesn't mind talking about Aaron's past. But Aaron's newfound happiness isn't welcome on his block. Since he's can't stay away from Thomas or suddenly stop being gay, Aaron must turn to Leteo to straighten himself out, even if it means forgetting who he is.

Adam Silvera's extraordinary debut novel offers a unique confrontation of race, class and sexuality during one charged near-future summer in the Bronx.
My Review:
I flew through this book in less than a day, and I loved it so much. It was so emotionally resonant, and I'm not going to forget it any time soon (I realize that this is a rather ironic statement to make, considering the subject matter of the book). This book was not a particularly happy read, since it was pretty dark and gritty throughout.
POSSIBLE SPOILERS AHEAD
I feel for Aaron Soto so much. He doesn't have it easy, and when you discover some things that I don't want to spoil, you'll realize that things for him are even more difficult than you thought they were. First of all, Aaron's dad killed himself, and shortly after that, Aaron tried unsuccessfully to kill himself too. Aaron lives in a small apartment in the Bronx with his mother and brother. They are from a lower socioeconomic background, so they have to live in a neighborhood that is riddled with violence. His friends are mainly his kind-of friends, and they are people who probably wouldn't want to be friends with him anymore if they knew the thing about him that even Aaron doesn't know at first.
Then Aaron becomes friends with Thomas. He is a great friend for Aaron, and they form a true deep bond. Unlike the rest of Aaron's "friends," Thomas doesn't like to get involved in street fights. He is softer and more sensitive. They talk to each other about real things, and they do fun things together, like watching movies on a rooftop. During this friendship, Aaron becomes confused, because he begins to feel an attraction to Thomas, but he thought he was straight. He thinks Thomas could be gay, and he really likes him, so he wants to make their friendship become more. I won't spoil what ends up happening with this.
At the beginning of this book, Aaron is in a relationship with a girl named Genevieve. I really feel bad for Genevieve, for reasons I don't want to say because I don't want to spoil. I think she is a good person for Aaron to have in his life. I think some of the things about their relationship, like how she had to ask him out, and then they had to "break up" so that he could be the one to ask her out. I really like Genevieve and her supportive presence, and how she's been there with Aaron through everything.
If you like YA emotional contemporary, read this book.
Katie